Presbyterian Children's Homes and Services' (PCHAS) mission is to provide Christ-centered care and support to children and families in need. This mission is a restatement of the biblical call in James 1:27 that true religion is this: to look after orphans in their distress.
PCHAS believes that the most powerful way to help children is by strengthening their families. We accomplish this by living into our philosophy of care which is to be family centered, strength focused, and goal driven. We meet our clients where they are and treat them with respect. We focus on our clients' strengths rather than their problems. And we encourage our clients to focus on their future rather than their past. When we do this well, we help children and families find hope and know the love of God.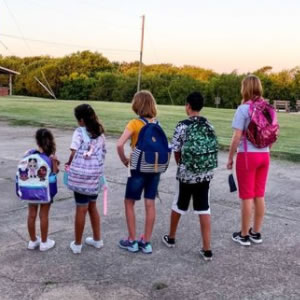 PCHAS helps children and the families who love them heal from trauma so they can build healthy relationships, succeed in education and discover their own world of opportunities and possibilities. This happens by engaging each child and adult in the context of their family issues. We know that, to end a cycle of abuse or trauma, we must work with children to clarify their thoughts and feelings and get a realistic view of each family member's role in their life.
With 14 programs in 28 locations across Texas, Missouri and Louisiana, PCHAS has grown from its modest beginnings as an orphanage. Residential programs, while much changed, still reflect the agency's mission and carry on a legacy of community investment in the lives of its youngest members.
Today, in Texas, PCHAS welcomes foster families to its Foster Care Village and Education Program in Itasca, just south of Fort Worth. At the village, foster parents find an unsurpassed level of camaraderie and support while children thrive in a place where they are known and loved. When Foster Families move to the Village, they get the keys to one of PCHAS's spacious homes where rent, utilities, internet and landscaping expenses are waived. Foster families also receive a generous monthly reimbursement. Village families share PCHAS' commitment to ensuring that siblings, even in large sibling groups, can remain connected by making our homes available for 5 or 6 children at a time, which may include up to 2 biological or adopted children.  Just like all foster families, Village families have the final say regarding placement, so we look to them to play a very active role in placement decisions.
Other residential programs include Transitional Living, which operates in San Antonio and Waxahachie, that helps young adults build an effective, results-driven bridge between living in foster care and living on their own.
The Single Parent Family Program likewise empowers adults to achieve self-sufficiency so that they may create a stable, nurturing home for their children. Parents are given a home of their own and the counseling, continuing education and childcare they need to get back on their feet. Campuses are located in Houston, Waxahachie and San Antonio, which recently expanded its campus to offer 16 duplex units to waiting families. These residential communities offer children and their single parents an oasis of calm, support and love where they can truly become their best selves.

To learn more about PCHAS please visit pchas.org or follow us on one of our social channels @pchasway.