Texas Boys Ranch Gets New Name and Logo
---
Texas Girls & Boys Ranch began as Texas Boys Ranch in 1975. For many years the agency served delinquent boys who were often referred by the courts. In 2002, the model changed to primarily serve boys under the conservatorship of DFPS. Substantial growth followed that transition. Various programs were added to enhance services offered to children and youth and in 2010 the Ranch began serving girls as well as boys.
As the mission evolved, TBR added trauma informed and evidence-based counseling services, including Equine-Assisted Psychotherapy and Trauma-Focused Cognitive Behavioral Therapy. In addition, Trust-Based Relational Intervention (TBRI) training has become a foundational component of our parenting and training support services.
In 2014, the Ranch added two new licensed programs: Foster Care/Adoption Services and an Emergency Shelter. With these additions, it became increasingly clear that the previous name and logo failed to reflect the broadening focus of our organization. As a result, in 2016 a committee of board members, senior staff, and community leaders began meeting to explore a new name and vision for Texas Boys Ranch. Also during that time, the agency decided to pursue National Accreditation through the Council On Accreditation (COA).
Through the efforts of many, the Board of Directors announced that beginning October 18, 2021, Texas Boys Ranch would accept the proud new name of Texas Girls & Boys Ranch. This name will carry the rich history Texas Boys Ranch has established throughout the years, incorporating the hopeful future that the Ranch purposefully encompasses, which is not only healing hearts of young boys but also young girls. The name change will act as a strong foundation of the many services Texas Girls & Boys Ranch has to offer.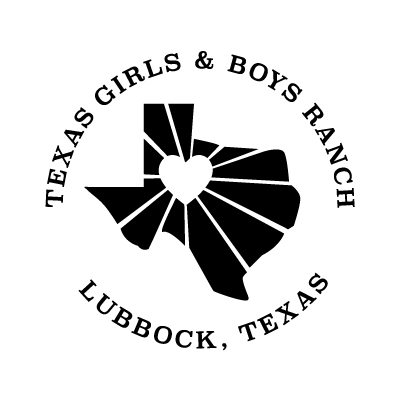 The name enhancement comes with a new logo. The new look and feel will present a long and powerful legacy to our donors, residents, work associates, and community. Texas Girls & Boys Ranch is at the center for caring for each child that seeks refuge through our services. They are surrounded by a Christ-centered community who will protect, nurture, and love them so they are able to see a ray of light in their future. The name will surround the state of Texas as if it's the protector of what is inside. The state of Texas represents the rich history and promising future as the heart in the middle is an illustration of how much everything we do is at the heart of these children. Through our hope-filled efforts, it is the long-term goal for them to see a ray of light at the end of their journey at Texas Girls & Boys Ranch and to look forward to a world of hope and promise.
Along with the new name and logo, we hope all will join us in our journey to showcase our rich history, while leading the way to a promising future that represents our new name. We invite you to visit our new website where you will discover ways to get involved, whether it be a donation, volunteering time, or becoming aware of our programs, there is something for everyone at Texas Girls & Boys Ranch. Please visit us at TxGBR.org.