Robert Marshall Named President/CEO of Hendrick Home for Children
---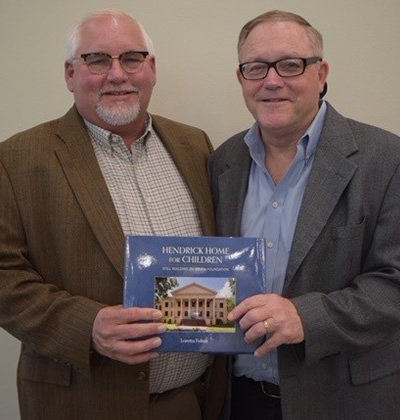 Hendrick Home for Children Welcomes New Chief Executive Officer
Robert Marshall will be joining Hendrick Home for Children as the new President and CEO. Mr. Marshall currently serves as Vice President of Operations at Cal Farley's Boys Ranch. He has been with the Cal Farley program since 1999 and has served in many different positions throughout his tenure with that facility. Prior to his association with Cal Farley, he worked with multiple care and treatment organizations all of which give him an in-depth background in childcare, adult care and associated organizational management. He has served on the Boys Ranch ISD School Board as a trustee and in the past year served as Vice President, has been on the Board of the Texas Network of Youth Services where he served as Board Chairman for 4 years and the Texas Coalition of Homes for Children as the representative of Cal Farley.
Mr. Marshall is replacing Dr. David Miller who has been President and CEO of Hendrick Home for Children for the past 27 years and is now entering into a well-deserved retirement. As a direct result of Dr. Miller's vision and leadership, the Board approved the 2020 Vision Plan in 1998, which was a long-term plan for the Home's facilities and campus. That plan put the Home on a road map which resulted in the construction of Patty's Cottage, the Rhodes Complex, the Ramsey Maintenance and Storage Facility, the Foy Wilks Cottage, the Judith Matthews Cottage, and the Bernard Hanks Equestrian Center. The final and most significant phase of the plan has been the construction of a modern replica of the old Main Building. In addition to providing necessary administrative space, dining and meeting rooms, the new Main Building has the capacity to serve 50 additional clients.
Hendrick Home for Children was established and funded by Thomas and Ida Hendrick in 1939 to provide a safe and loving home for children in an environment that provides spiritual, physical, emotional, and intellectual growth. For more than 80 years, Hendrick Home for Children has cared for children who, for various reasons, are unable to live with their biological families. Hendrick Home also provides a residential environment for single parents and their children to stabilize and strengthen their lives while developing an ability to live independently.
Mr. Buddy Napier, President of the Board of Trustees, remarked, "On behalf of the Board of Trustees, we are excited that Robert will be joining Hendrick Home for Children as President and CEO and are confident that he will continue to build upon Hendrick Home's legacy and mission of raising children in a safe and loving environment of spiritual, physical, emotional and intellectual growth."
Dr. Miller added:
"I have known Robert for more than 20 years and know him as a caring and competent professional who can take Hendrick Home's programs to the next level. Robert has a genuine love of children and employees. As a graduate of Hardin Simmons University, Robert is familiar with West Texas in general and the Big Country area in particular. Elaine and I welcome Robert and his wife, Shannon, into the Hendrick Home family."